Order: Charadriiformes - Familia: Laridae
Habitat: Lakes and rivers
All records since January 2014
Adult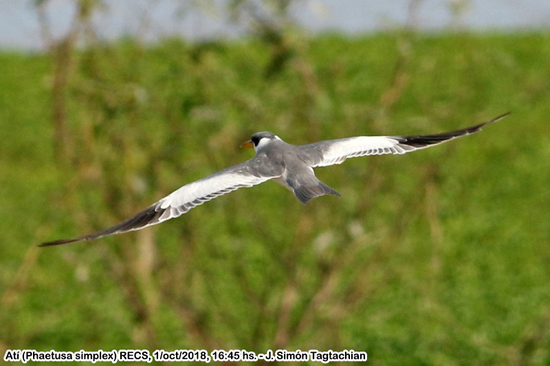 1-10-18 © J. Simón Tagtachian
Robust bill. Yellow legs. Conspicuous dorsal wing design: grey, white and black
Basic plumage: greyish or white crown. Postocular black stripe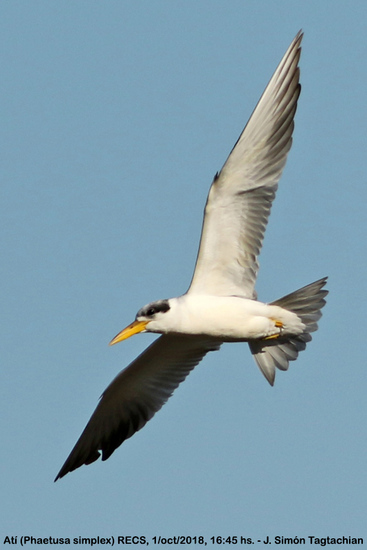 1-10-18 © J. Simón Tagtachian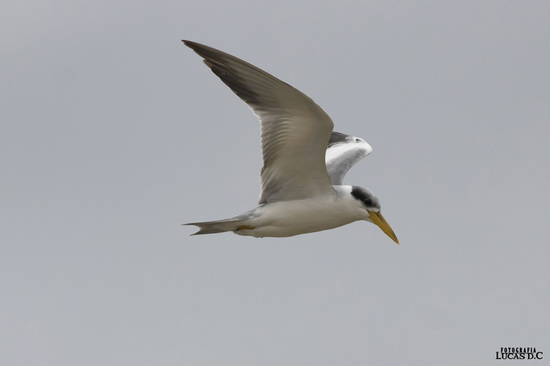 30-9-18 © Lucas De Ciria
27-9-18 © Héctor Horacio García
Large-billed Tern
Phaetusa simplex
30-9-18 © Cora Rimoldi
As we had already assumed the reserve would be closed on Sunday 30th due to the Saturday's storm. The program was to walk along the sidewalk and find the large-billed tern, which Horacio had spotted on one of the islets at the Brasil end on Wednesday. And there it was with its robust yellow bill tucked up at the back. We were lucky since it awoke right away and action began. It timidly bothered the pochards, which did not react. Before such indifference the tern picked on the silver teal on the left. The teal did move aside due to its cocky attitude. Satisfied the tern began to preen. And the first raindrops began to fall but...
30-9-18 © Cora Rimoldi
we wanted to see the tricoulored back with open wings and stayed. Again the tern charged at the pochards, which did not get upset. Defeated it took flight, made a big turn to finally sit on the pole. Satisfied with the show we returned to Viamonte. The last part of the video is repeated in slow motion.
30-9-18 © Cora Rimoldi
As we were walking back to Viamonte and much to our surprise the tern surpassed us and gave us another flight demonstration. It flew in long and pronounced waves sliding down to the water and gaining height. It was clearly fishing. It did pick the water on one occasion but we did not see the tern catch anything.