It is a breed of domestic duck which is raised for egg and meat consumption. Due to selective domestication it looks very different from the wild duck it comes from, the Mallard Duck
Anas platyrhynchos
.
See other variants
also coming from the wild Mallard Duck.
Photos © Nicolás Giorgio
A pair of Pekin Ducks appeared in the reserve on 4th of December 2013. They stayed at Coypu Pond. The last record of the pair dates back to 12th of January. By 20th there was only one left. No one knows its fate. On 19th of September we noticed black spots on the bill. We suppose these may be fungi.
The sick pekin duck is still here and a new pair has come
Photos © Nicolás Giorgio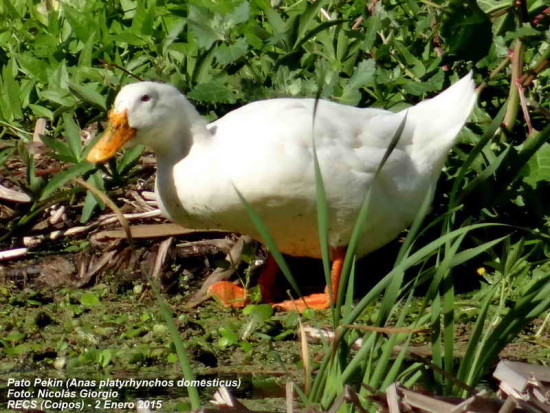 The one with the stained bill is still alone.
© Nicolás Giorgio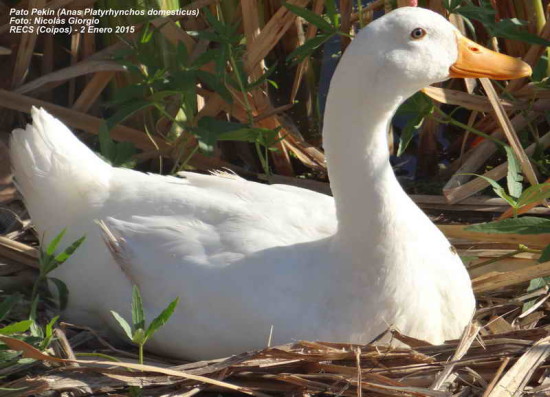 And this one is also alone
© Nicolás Giorgio
We found the Pekin's mate and surprise! it is incubating
© Nicolás Giorgio
The pair lost the clutch. Eggs disappeared from the nest
© Nicolás Giorgio

Domestic ducks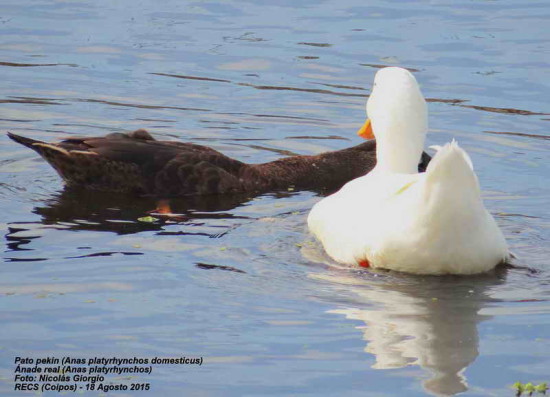 © Nicolás Giorgio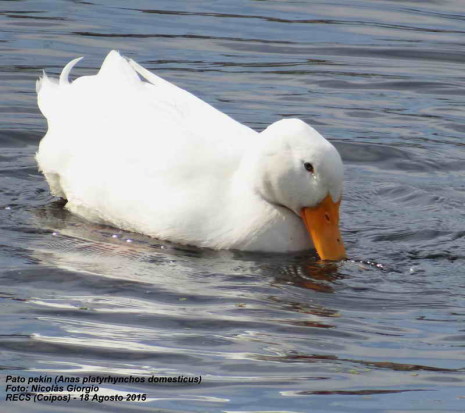 © Nicolás Giorgio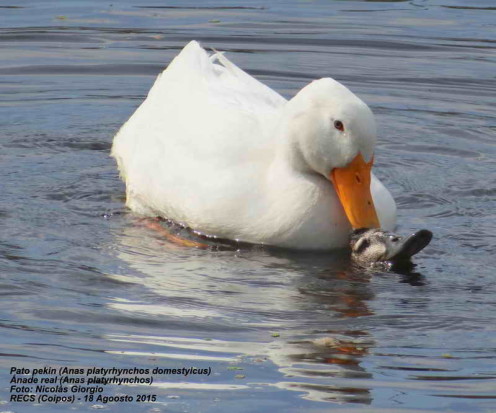 © Nicolás Giorgio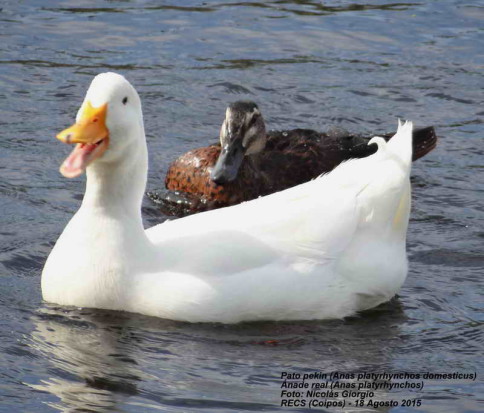 © Nicolás Giorgio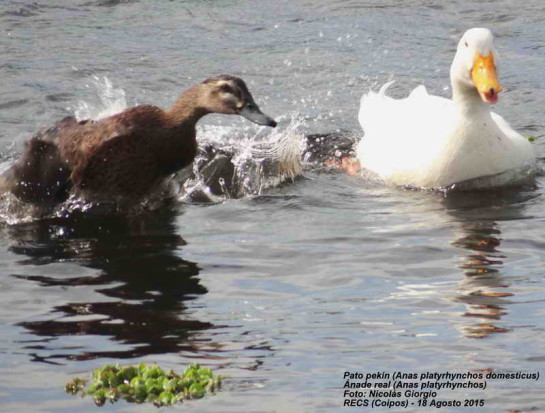 © Nicolás Giorgio
In Atypical Ducks and in Mallard Duck domestic variant some commentaries are made on their characteristics and history of these domestic ducks.
We know they come from the same species Anas platyrhynchos and that they are the result of domestication by man. For this reason they are not included in field guides and are not well appreciated in reserves.
This Pekin male had already mated with its pair in January 2015. They were not lucky since all eggs disappeared. Further attempts to breed were not detected till Nicolás registered this event with a change of actors on Tuesday 18th.
He tells us that the mallard duck and the pekin duck were navigating in the pond and the other pekin duck was a bit far away. Within a fraction of a second the mating scene begins. The female shows receptive, the male mounts her, grasps her by the neck with the bill and after mating, the triumphal clousure.
¿What will result of this union if it thrives? We will be attentive.