Order: Passeriformes (Oscines) - Family: Sturnidae
Status: Introduced - Resident - Abundant - Breeder. Habitat: Woods, ponds and marshes
Sounds

8 seconds - 52 kb
© José L. Merlo
12 seconds - 70 kb
© José L. Merlo
12 seconds - 75 kb
© José L. Merlo
12 seconds - 72 kb
© José L. Merlo
Flock of juveniles
31 seconds - 217 kb
© José L. Merlo
 
 
 
Non-breeding Adult

6-2006 © Hugo Hulsberg

3-2006 © Hugo Hulsberg

Black with white dots. Red legs
7-2010 © C. y T. Di Mauro
Breeding Adult

10-2006 © Hugo Hulsberg

Yellow bill. Mottles disappear because feather tips wear off. Violet and greenish sheen
8-2006 © Jorge García V.

 
Eurpoean Starling
Sturnus vulgaris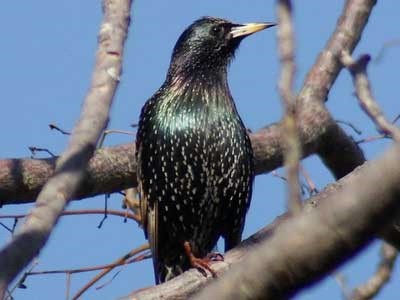 After the molt the new feathers of the starling have white tips, which gives it a mottled aspect. With time mottles disappear because the tips wear off.
© Claudia y Tito Di Mauro
Two exotics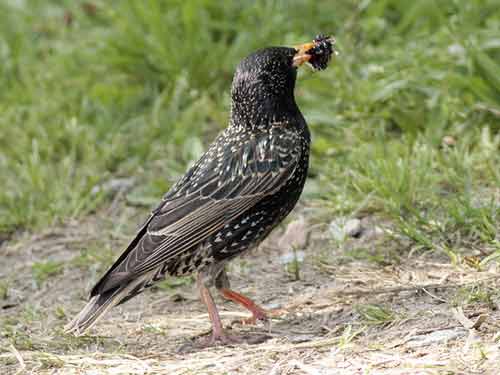 Man has always moved with his culture on his back throughout history. For whatever reason: cultural nostalgia, economic reasons, deliberately or accidentally the introduction of plant and animals has caused in the receiving environment an unequal struggle. The exotics have no their natural predators which control the spread of the population to such an extent that they grow out of control and become pests. This caused the regression of the autoctonous flora and fauna and became a call to attention, which has lead the Government to legislate on the protection and conservation of native flora and fauna. Nevertheless, fulfilment of the law is still not a priority.
In this photo two introduced species: the European Starling Sturnus vulgaris with a fruit of the Mulberry Tree Morus nigra in its bill. This tree is native to Eurasia. Its fruit is fleshy and purple and is highly appreciated by birds which disseminate the seeds. In the reserve this tree has easily spread.
The first records of the European Starling in Buenos Aires date back to the late '80. According to investigations it has expanded along the coast of the Province of Buenos Aires till Mar del Tuyú. At Costanera this is a resident bird and its presence was first recorded in 1997 as Germán Pugnali points out. It is very aggressive: it pushes native birds or migratory birds in their competence for food and nests. It is opportunistic: it makes do with anything it can get. It has a high rate of reproduction: it would almost double their population yearly.
The negative impact this bird caused at an economic an ecological level in other countries where it was also introduced have been broadly investigated. We must learn from this to avoid this situation. Population growth is so fast that it becomes imperative to take measures to erradicate this species before it is too late. CR
Atypical Individual

Hermenegildo, our white starling
3-2006 © Alberto Gurni

9-2006 © Jorge García V.




7-2009 © Mirta Ragonesi

10-2006 © Roberto Ares
Breeding

11-2009 © Pablo M. Fernandez

11-2006 © Hugo Hulsberg

11-2006 © Hugo Hulsberg

14 11 2010 © Carlos González Ledo
Diet

11-2010 © Carlos Gonzalez L.

 
 
European StarlingSturnus vulgaris
Leucistic bird eating berries
11-2009 © Roberto Ares
Flock

With the conspicuous Hermenegildo
4-2006 © Roberto Ares