Order: Passeriformes (Oscines) - Family: Thraupidae Habitat: Bushland and savannas
Without doubt its colour calls the attention as much as its song. And it has been hunted to be caged. This along with the destruction of its habitat has significantly contributed to the decline of the population to the extent of being considered a threatened species. It inhabits mainly open woods and shrublands. So it does not belong in our ecoregion. Nevertheless, it appears from time to time. Individuals are thought to have escaped or to have been released. When analyzing the few records we have we find a striking pattern regarding the ocurrence of the Yellow Cardinal. May, June and August 2006 (same individual?), August 2011, July 2013 and August 2014.
All records since January 2014
Sounds

© José L. Merlo
Adult male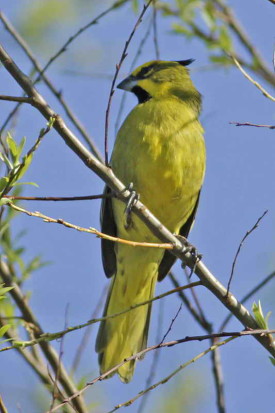 17-8-14 © J. Simón Tagtachian
Yellowish olive.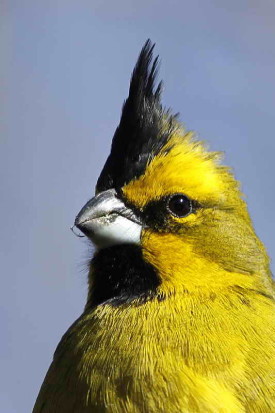 17-8-14 © J. Simón Tagtachian
Copete. Línea ocular, garganta y babero negros. Grueso pico negruzco con mandíbula gris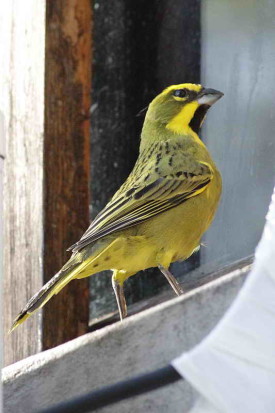 17-8-14 © J. Simón Tagtachian
Back with black streaking.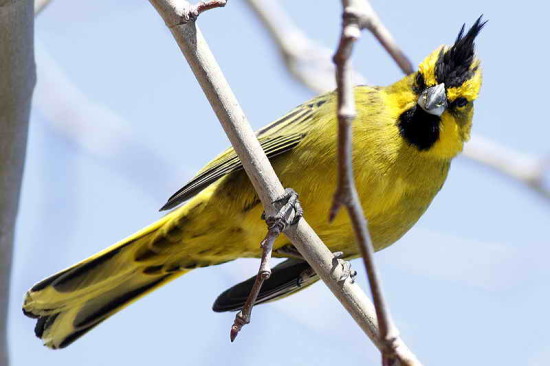 17-8-14 © J. Simón Tagtachian
Broad eyebrow, malar band and ventrally yellow.
© Claudia y Tito Di Mauro Eating and singing
Adult female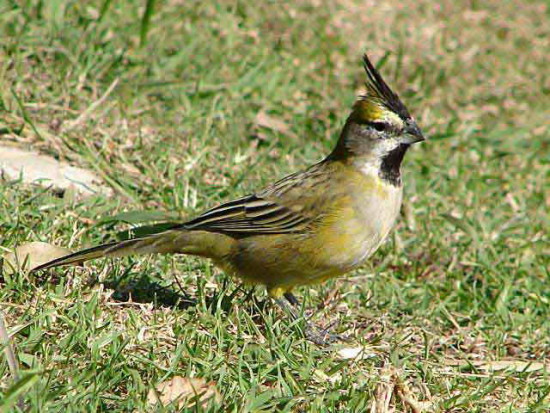 5-2006 © Jorge García Vicente
Greenish yellow. Crest and throat black. Cheek and brest grey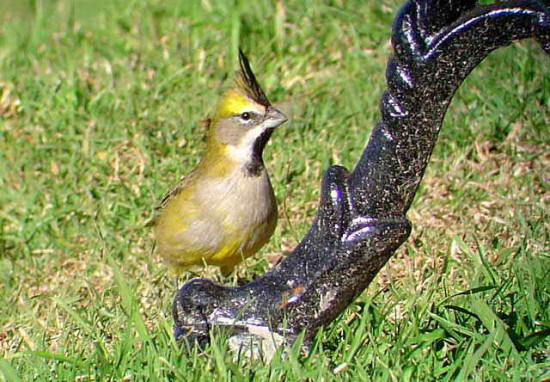 6-2006 © Javier Ubiría
Streaked back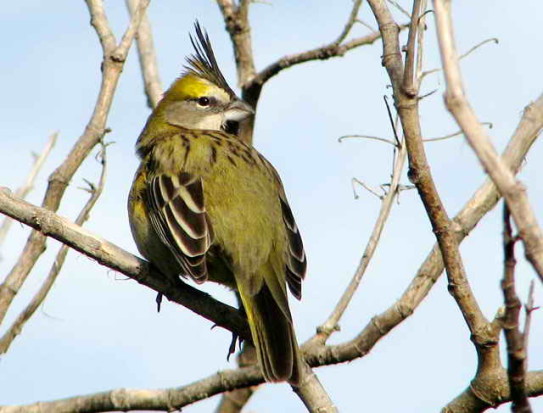 6-2006 © Hugo Hulsberg
Previous records
08-2011 © Sergio Sánchez
Near the reserve
08-2011 © J. Simón Tagtachian
08-2006 © Jorge García Vicente
6-2006 © Hugo Hulsberg
6-2006 © Alec Earnshaw
05-2006 © Norberto Oste
05-2006 © Alberto Gurni
05-2006 © Javier Ubiría