Order: Piciformes - Family: Picidae
Habitat: Woods and savannahs
All records since January 2014
The White-barred Piculet, seen for the first rime on September 25th, is one of the four woodpecker species at the reserve. The woodpeckers are divided into two subfamilies: picinae and picumninae. Among the picinae: Green-barred Woodpecker Colaptes melanochloros, Campo Flicker and Checkered Woodpecker Veniliornis mixtus, three species very well recorded and the White Woodpecker Melanerpes candidus with a few registers. The White-barred Piculet belongs to the picumninae and has few sightings. From the first record in 2011 up to 2014 only the female was seen at RECS. During that time the male was seen at Ribera Norte Reserve. The picumninae are smaller, less than 10 cm, than the picinae and their tail is black with longitudinal white bands and is not used as a support since it is not rigid.
Sounds
© J. Simón Tagtachian
Drumming and singing
© J. Simón Tagtachian
Drumming and singing
27 12 14 © Claudia y Tito Di Mauro
Drumming and singing
Adult Male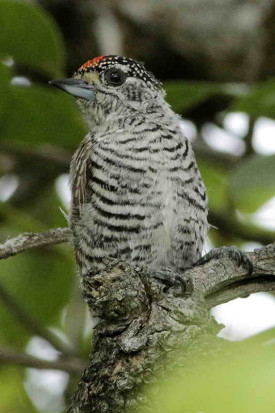 © J. Simón Tagtachian
Barred underparts. Black head dotted white.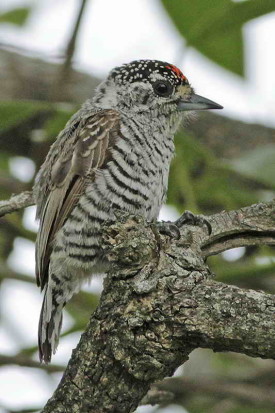 © J. Simón Tagtachian
Red forehead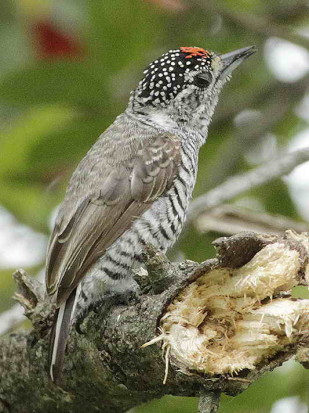 © J. Simón Tagtachian
Black tail with white longitudinal lines
Adult Female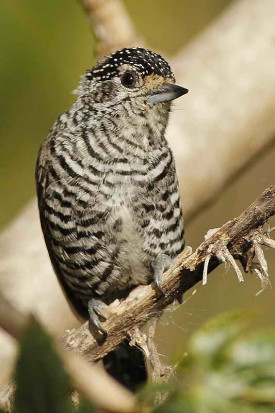 © J. Simón Tagtachian
Lacks red forehead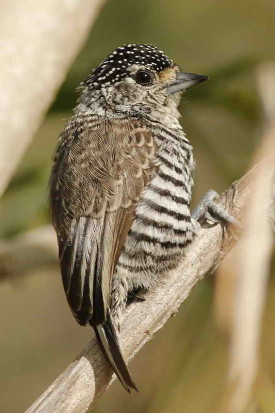 © J. Simón Tagtachian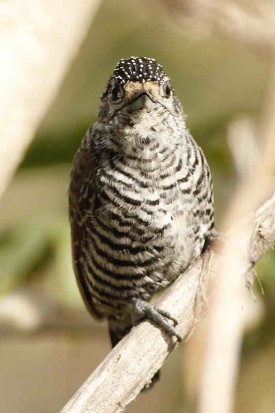 © J. Simón Tagtachian
Previous registers
2 12 12 © Pablo Mosto
9 5 12 © Deborah
15 10 11 © Claudia Furman
7 8 11 © J. Simón Tagtachian
19 4 11 © Ignacio Chantada
19 4 11 © Marcelo Gavensky