More news - February 2021
Wild fig tree
Ficus luschnathiana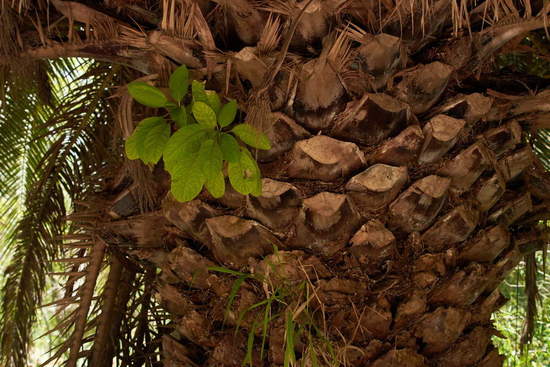 8-1-21 © Milena Llopis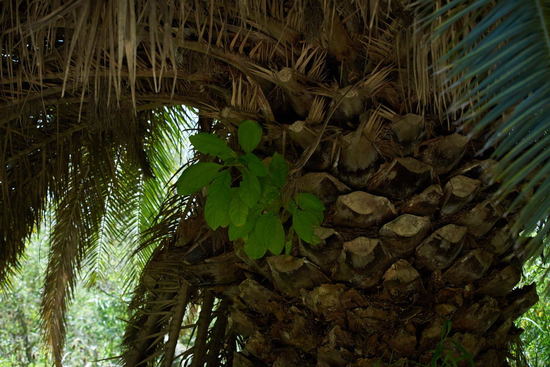 20-2-21 © Milena Llopis
Two wild fig trees which took root on Phoenix canariensis. The one on top, in the Middle Path near the Lizard Path towards the river on the left. The one below, at the very beginning of the Lizard Path towards Brasil on the right.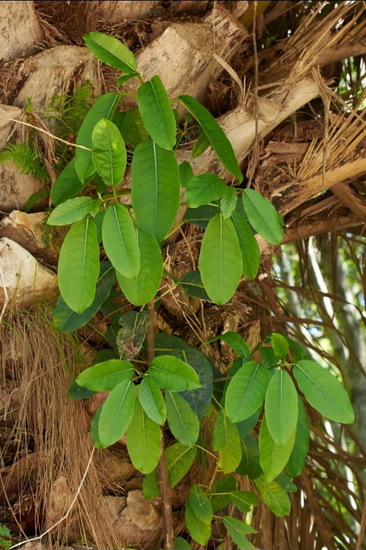 1-11-20 © Milena Llopis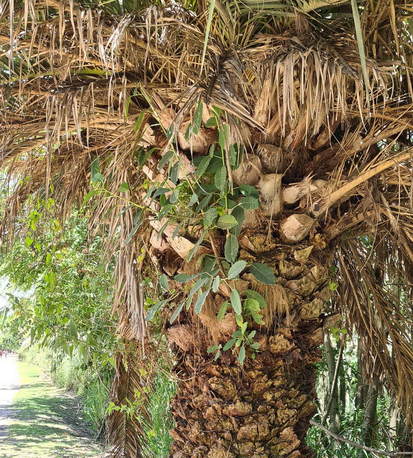 27-2-21 © Cora Rimoldi
Bunya pine
Araucaria bidwillii
This araucaria is native to Australia specifically to the Bunya Mountains, after which it takes the name bunya pine or bunya bunya.
It can reach 40 meters. It produces very big and heavy pines which contain lots of seeds of a highly nutritional value, used to prepare a wide variety of dishes. Its wood is highly valued too, as tonewood, to make string instruments.
In Argentina there are two native species of araucaria. One in the northeast of Misiones Araucaria angustifolia and another one in the Andean Patagonian forests Araucaria araucana.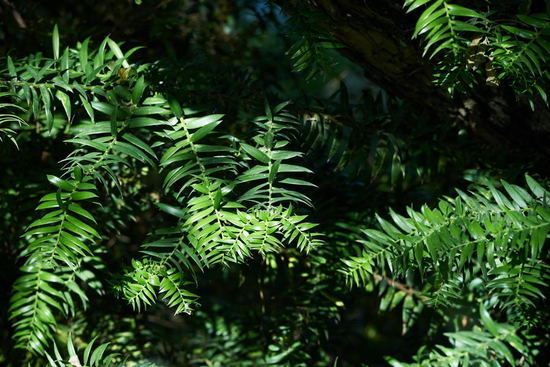 20-2-21 © Milena Llopis
Shaggy ink cap
Corpinus comatus
This mushroom emerged near the entrace of the reserve after a rainy week. Sally noticed it and we photographed it.
It is already mature. The cap is bell-like, it has already turned black it means it is decomposing. This mushroom grows in fertile soils and also in lawns.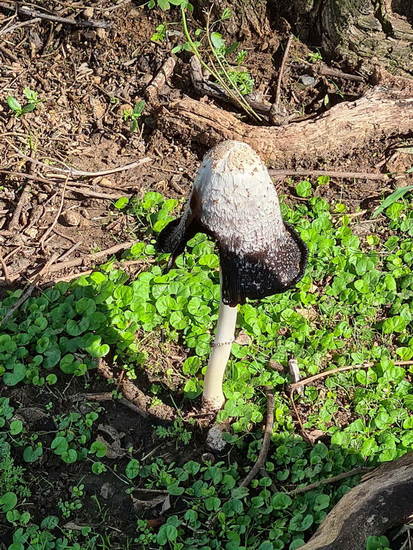 2-1-21 © Cora Rimoldi
When young it looks differently. It has an ovoid white cap with brown scales. Then the cap opens out and it begins to decompose turning into black ink till it is consumed. In older times this black liquid was used as ink, tha's why the name ink cap, though it is only one of the several common names it has.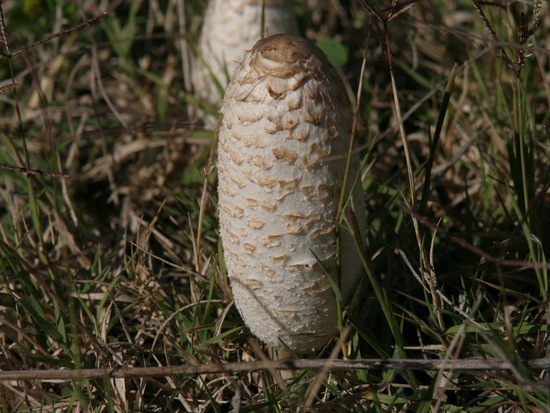 30-4-06 © Roberto Ares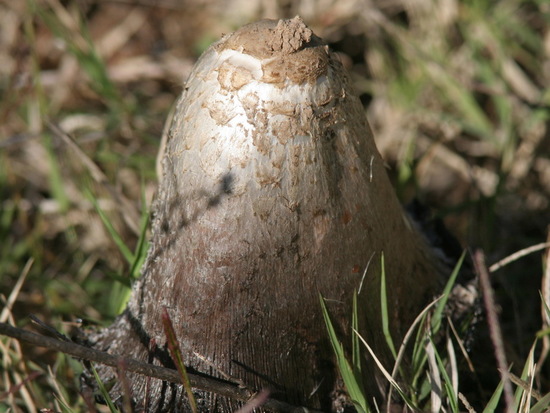 30-4-06 © Roberto Ares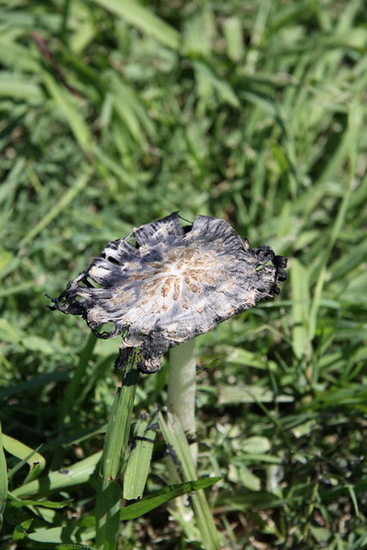 3-3-12 © Cora Rimoldi
It is an edible mushroom, but it must be eaten only when young before it turns black. As its life cycle is so brief, it must be picked and consumed right away or be prepared accordingly to delay decomposition. It also has multiple medicinal uses.
Giant Arrowhead
Sagittaria montevidensis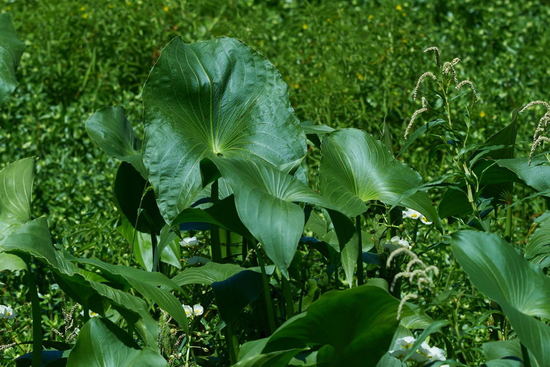 20-2-21 © Milena Llopis
The return of water in the Coypu Pond has give the pond another look, mainly at the Viamonte end. The mudflat exposed due to the lack of water is now covered with Enydra anagallis, many larger bur marigold Bidens laevis with its beautiful yellow flowers, and wand riverhemp Sesbania virgata by the ton and the giant arrowheads have reappeared and are gaining ground in the pond. The giant arrowhead is an aquatic herb which covered this sector in 2015. It was the perfect shelter for the masked duck which even bred.
World Wetlands Day - February 2nd
"Wetlands and water" is the theme for the World Wetlands Day 2021. It focuses on wetlands as a freshwater source and encourages actions to restore them and prevent them from disappearing. It emphasizes the increasing crisis of freshwater which will affect people and the planet.
Reserva Costanera Sur, declared Ramsar Site in 2005, forms part of a network of relevant wetlands.
In this video Claudia and Tito show some of the biodiversity of the Coypu Pond
2-2-21 © Claudia y Tito Di Mauro
Lancepod
Lonchocarpus nitidus
In the cabin's garden at the beginning of the Canal Viamonte one can enjoy the sight of this lancepod. This is a native plant of extremely beautiful colour with flowers which contrast the green of leaves.
It belongs into the legumes. Its leaves are glossy green with several pairs of folioles ending in one at the tip. The flowers grow in racemes. Here they are rose, but they may be violaceous or exceptionally white. They are butterfly-like, the typical form of papilionaceous flowers.
This plant grows near watercourses. It reaches Punta Lara, its southernmost distribution.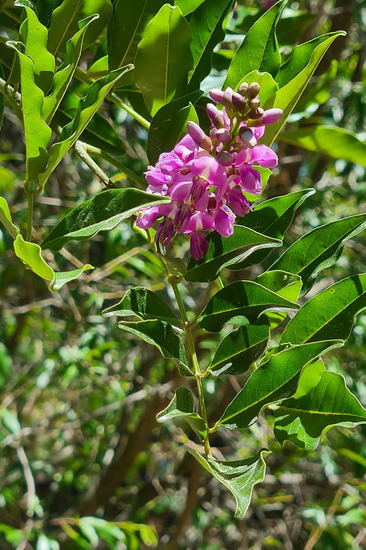 2-1-21 © Cora Rimoldi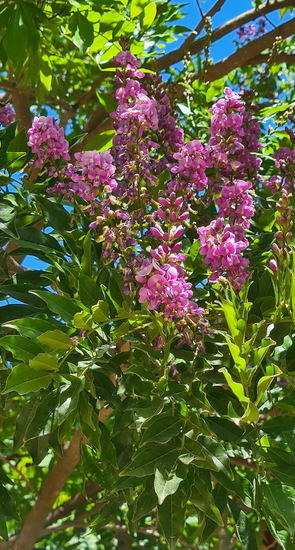 2-1-21 © Cora Rimoldi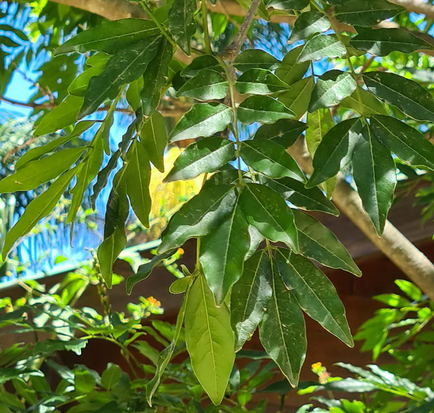 2-1-21 © Cora Rimoldi